About Up for Discussions - Every Sunday we hold a public meeting in our discord channel to go over some of the things we've been working on in the back as well as to talk about some of the content that have been posted on Discussions.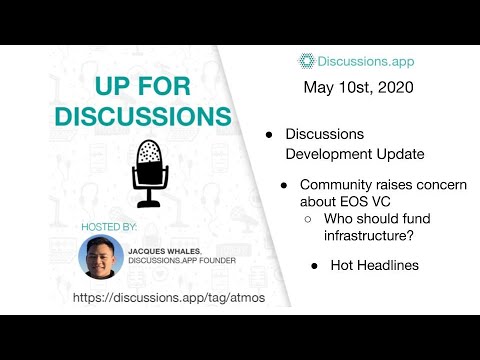 Ticking off our to-do:
Rektkid gets blocked by Brendan:
24 people are talking about this
EverythingEOS asks whether EOS VC is actually meant for EOS.
That really seemed to pressured Brendan to unblock Rektkid:
Voice to launch globally this summer?
Vigor celebrates it's first anniversary:
PredIQt launches second beta of their prediction market, here is how you can create a prediction market and some extra details an how it all works:
https://discussions.app/tag/eos/3kgfgc9mqumf0/
Zoom buys Keybase:
https://techcrunch.com/2020/05/07/zoom-acquires-keybase-to-get-end-to-end-encryption-expertise/
Telegram's ICO comes to disappointing end:
t.me/cryptonomist_english/5415
Acueos is Compound protocol implemented on EOS and allows you to short EOS, DAPP.
BOSCORE team participates in B1 challenge to get ETH smart-contracts running on EOS.
Got thoughts on any the topics mentioned above? Let us know down below
Want to jump on the podcast with us? Give me a ping @bluabaleno on telegram.